A Happy Workforce is an Effective Workforce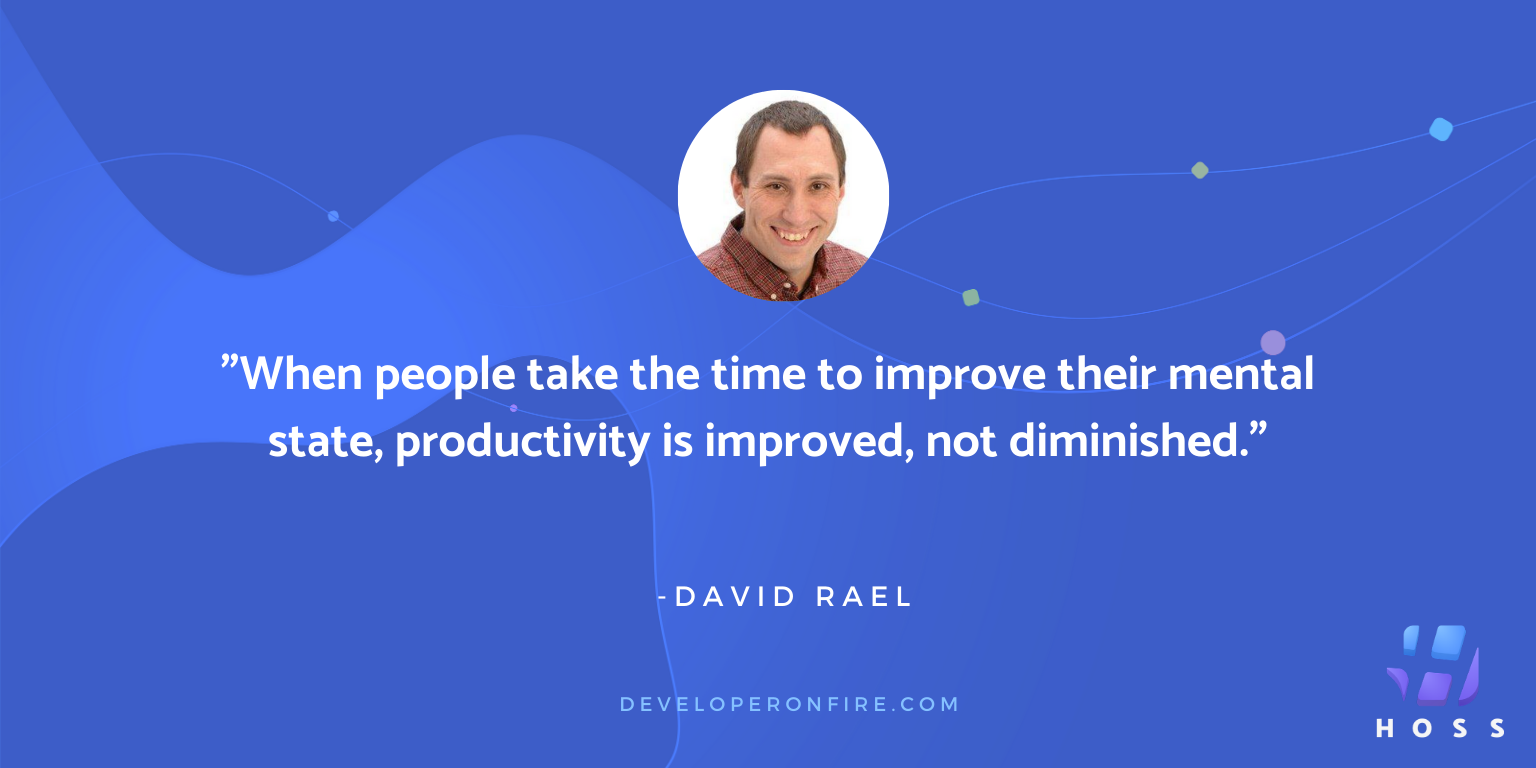 DevBites: A Happy Workforce is an Effective Workforce
With David Rael
David Rael is a software developer and host of the Developer on Fire podcast, which tells the stories of some of the amazing people in software.
Hoss: With most teams now working remotely, what advice do you have for teams and engineering leaders who are adapting to a new way of working? Do you think many teams will adopt remote work post-crisis?
David Rael: When people work remotely, they are at liberty to take breaks for things like video games, naps, walks and enjoying the company of loved ones. Leadership may have an instinct to try to find ways to discourage this to keep people focused, but they're better off embracing it. A happy workforce is an effective workforce. When people take the time to improve their mental state, productivity is improved, not diminished. Hire people you can trust and trust them to do what is in their own best interests and in the best interests of the organization. Remote working presents opportunities for organizations, leaders, and contributors to work in the ways and at the times they work best. Reap the benefits rather than trying to resist.
I expect that post-crisis many teams that didn't do a lot of remote operation before will have seen how remote work offers options and take a more hybrid approach, trying to reap the rewards of remote flexibility and onsite real-time communication. There is peril in this approach because sometimes remote workers can get a second-class experience if a lot of the interaction taking place onsite isn't distributed remotely. I expect some pendulum swings as teams make mistakes in how much they embrace working remotely and how they manage making it work with also having in-office experiences.
Hoss: What is the worst piece of advice you're hearing being given out?
DR: I'm not sure how serious it is, but hearing people talking about pushing always-on camera feeds strikes me as misguided. Though there is virtue in trying to replicate the onsite experience of knowing someone is there and hearing the chatter and gaining context from the things happening around you, pressure to be on camera all the time feels authoritarian and runs counter to the remote-first ethos of interacting via chat and escalating the communication-medium bandwidth for interactions that need it. For remote work to function optimally, people need to feel trusted in that they are going to get the job done and that they are treated as adults.
Hoss: Given the disruption our society has seen, are there any tech trends that you see on the horizon that other people may think are insane?
DR: For more than a decade now, the supply of software development skill has been extremely behind the demand for it. This has resulted in a white-hot job market for software professionals. It makes sense. With software everywhere and with it "eating the world" there has not been any upper bound on the expansion of the needs for the skills of developers. The positioning of developers in this crisis is enviable to those with many other skill sets with remote work abilities and an abundance of work that needs to be done. I'll stop short of saying that I see an end to the party, but conditions are going to change. Many developers have already felt the pinch of contracting economies, but in a broader view, the impact on software hasn't been that extreme. I think the pullback on demand for software is coming, though, it will just lag behind much of the pain felt in other areas. Slowdowns in many verticals will mean less to spend on ambitious initiatives, which will mean less software. I'm sorry, but I think the favorable job market, at least to the extent that it has been, has numbered days ahead.
Hoss: What do you think the future of software development looks like?
DR: The largest change, I think, is related to the disruption to the demand for skill in the prior question. Further, the supply of software developers continues to expand as bootcamps turn out more graduates, better tools and cloud computing make the craft more approachable, and today's junior developers are gaining more experience. It's going to be harder to sell technical skills. Additionally, recognition continues to grow of the fact that software is not a job for solo programmers in the basement who aren't good with people. Developers need to engage with business problems and with people outside their teams. This has always been true, but the ability for organizations to shield devs from these realities diminishes more every day. Programmers now need to be people-oriented in addition to being technically sound. That need will increase.
Also, tools get better all the time. Leveraging containers and cloud capacity to enhance the developer experience with jaw-dropping capabilities like Azure is now offering with Azure Dev Spaces, enabling not only running production workloads, but developer experiences in the likes of Kubernetes makes for remarkable new ways of doing software and eliminating a lot of the frustration of setup and configuration of workstations.
Learn more about the Developer on Fire podcast here.