The Hoss API Consumption Trend Report Q1 2020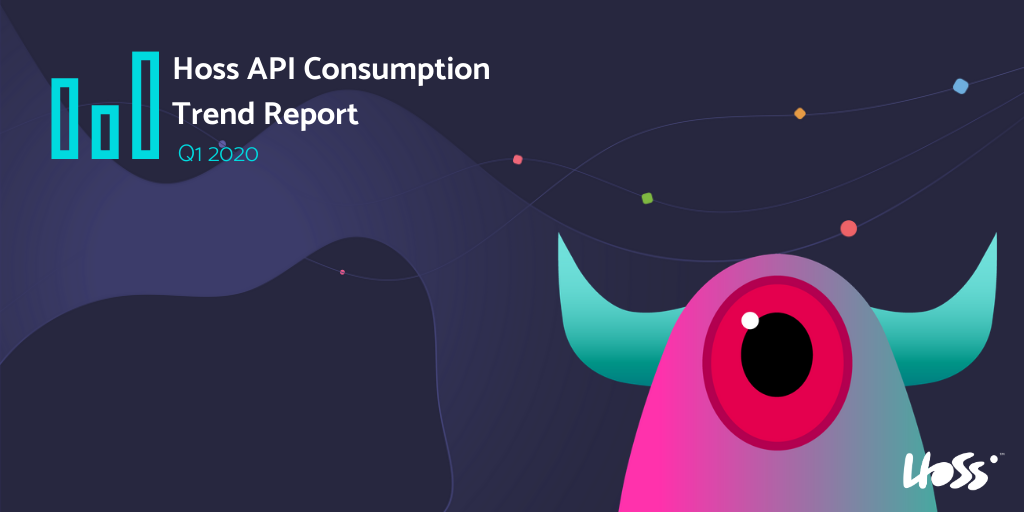 Over the last few years, the consumption of third-party APIs has skyrocketed. The average developer uses almost 20 APIs to power their applications and 50% of all B2B collaboration happens through APIs.
The recent State of The Cloud Report by Bessemer Venture partners predicted that the "API-universe will drive innovation across all industries."
At Hoss, we've seen this first-hand. Many of our customers are becoming increasingly API-powered, from local delivery services utilizing Google Maps API to route orders and Stripe to easily accept payments to global project management platforms integrating Slack for better collaboration and Tableau for data visualization.
The increase in API adoption has introduced a new set of challenges for teams as they build integrations, maintain existing integrations and aim to deliver a great customer experience while relying on more and more third parties. According to the SmartBear State of API 2019 report, 56% of companies surveyed said that loss of customers is the biggest risk of poor API performance.
The Hoss API Consumption Trend Report
To get a better sense for how increased API consumption is impacting developers and businesses, we conducted a developer survey to learn more about the API consumption experience today.
Rate of Consumption
Over 28% of respondents consume more than 10 third-party APIs.
This aligns with the trends we've seen among our customers at Hoss. Companies are adding more functionality and efficiency to their products and services than ever before by taking advantage of more third-party APIs.
Pain Points
By far, the most common complaint about experience reported by survey participants was poor documentation of third-party APIs.
Developers consistently listed poor documentation as one of the biggest pain points with third-party APIs, citing frustrations about not being able to easily ramp up new team members and losing time when integrating.
"Poor API documentation, poor support, and then poor explanation when they are going to make a breaking change."
- Hoss survey participant
Beyond documentation concerns, the Hoss survey found that developers who consume more than 10 APIs experience the following issues at much higher rates than those consuming fewer APIs:
Poor support from the API producer
Difficulty keeping track and sharing internal API knowledge
Rate limiting
Third-Party Monitoring
More third-party APIs can mean more features and better user experience - but it can also mean more problems as a company's network of APIs becomes more complex. Despite the complexity and potential consequences of API failure, Almost 50% of respondents said they don't monitor third-party APIs at all, and 39% have built their own tools in-house to monitor third-party APIs.
Some developers reported using multi-methods, such as combining tools that were built in-house with APMs to monitor APIs.
Developers who consume at least 10 APIs are twice as likely to have built in-house monitoring tools than those who consume fewer than 10.