Case Study: Why NewCraft Chose Hoss to Revamp its Developer Docs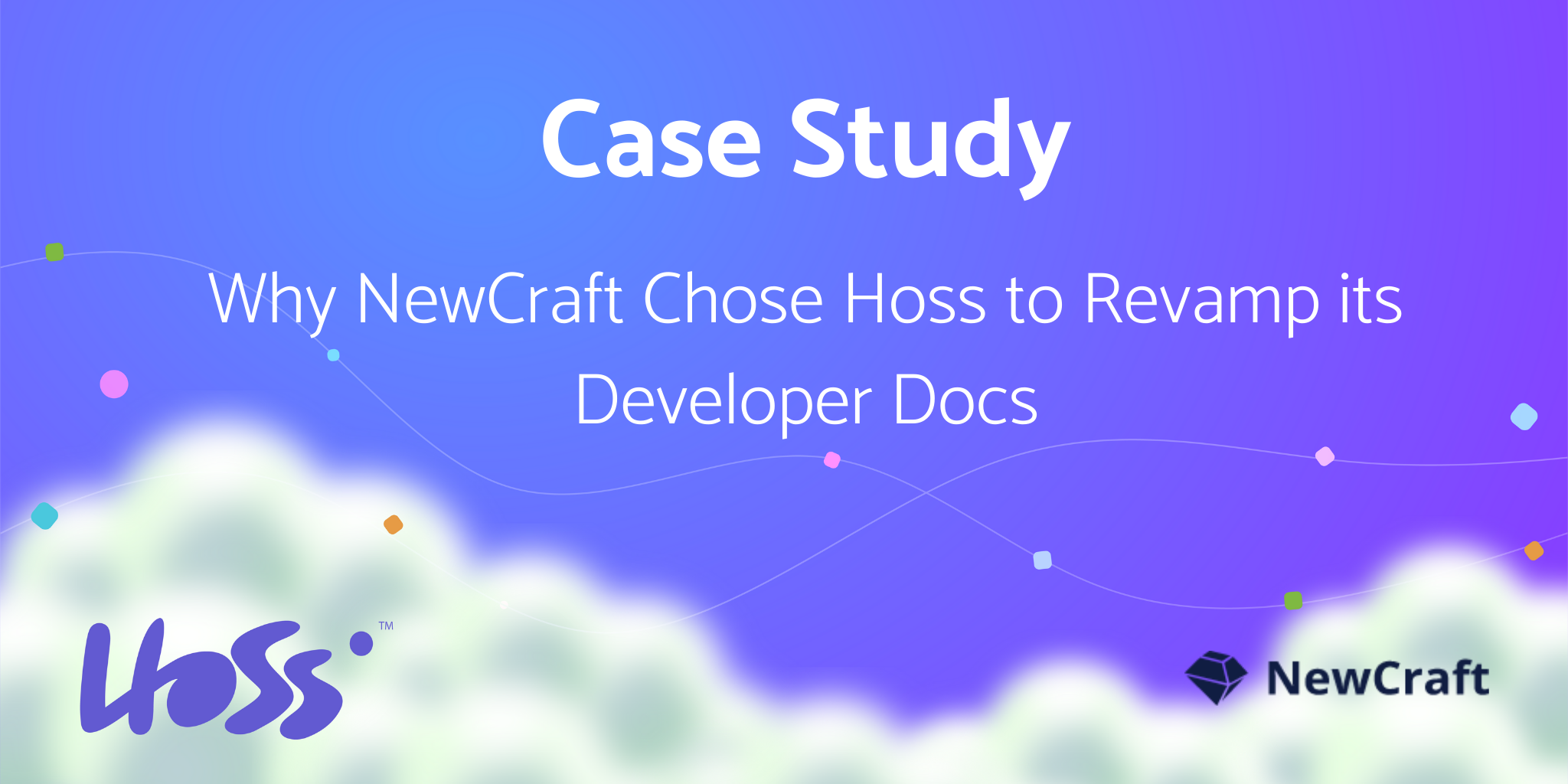 Background
NewCraft is an HR and payroll API integration company that highly values great developer experience. Their goal is to create an experience that delights their customers and differentiates their business from the competition. NewCraft had been using a third-party tool to manage its documentation, but wanted to offer a more robust, custom experience to its customers and more seamlessly manage developer experience initiatives internally. 
Why Did NewCraft Choose Hoss?
Hoss is fully customizable. 
NewCraft wanted its excellent developer experience to be a differentiating factor for its business. While other docs tools are templatized, Hoss provides companies with the tools and support to create entirely unique experiences that align with their business and use cases. This meant that NewCraft's developer portal and documentation would be created for its specific needs and audience instead of looking the same as every API other company, which was appealing to NewCraft.
Hoss makes internal developer experience processes seamless.
Creating a stellar developer experience can be an expensive, time-consuming undertaking. So, it was important to NewCraft to find a developer experience solution that was easy to get up and running quickly. 
Hoss allows companies to manage documentation as code using tools they are already familiar with like markdown and git. Hoss also has a CMS for less-technical users. All changes are sent through Hoss's linter, which checks for spelling, broken links and other custom rules making it easier to maintain great docs. Collaborative editing and preview environments make it easy for teams to maintain their docs.
Hoss is also SDK aware, so API keys and examples are personalized to users, who can interact with any API without modifying the request.
Hoss can offer extra help.
If needed, Hoss can help companies write documentation, guides, FAQs, blog posts and other developer content, including a full documentation review and gap analysis. While not every team needs this level of support, the NewCraft team liked the peace of mind that came with having back-up on standby.
At Hoss, we believe that the best developer experience is tailored to each company's unique audience and needs. We work with our customers to help them wow developers and build meaningful experiences with lasting power.
Matt Hawkins, Hoss CEO and Co-Founder
The NewCraft Experience
With Hoss, NewCraft was able to create a customized, unique experience for its customers that included that full range of developer experience offerings, beyond just documentation. Because Hoss is user-friendly and adaptive to existing internal processes, the transition to Hoss was seamless, and the NewCraft team appreciates the ability to edit docs collaboratively, integrate with third-party tools and continually monitor for discrepancies.
Providing a world-class developer experience is paramount to our success. The Hoss developer experience platform offers a turnkey solution for a custom, thoughtful experience unique to our business and our customers.
Cameron Sadler, Founder and CEO,NewCraft
About NewCraft
NewCraft is an HR and payroll API integration that lets companies connect with products like WorkDay, ADP and Greenhouse using a single API. NewCraft is built for HR tech and fintech startups and can help with benefits administration, learning management, onboarding, financial services and recruiting. 
About Hoss
Hoss is a developer experience platform that gives teams the essential tools they need to deliver a world-class customer experience. API-driven companies like Xendit, AssemblyAI, and Zentail trust Hoss to help them better acquire, understand, and support their customers. With Hoss, teams can offer superior documentation and developer content, gain deep visibility into how customers are using their API, and provide robust and customizable developer dashboards. Hoss is backed by top investors like Y Combinator, FundersClub, Soma Capital and Liquid2 Ventures.