Development Trends on the Horizon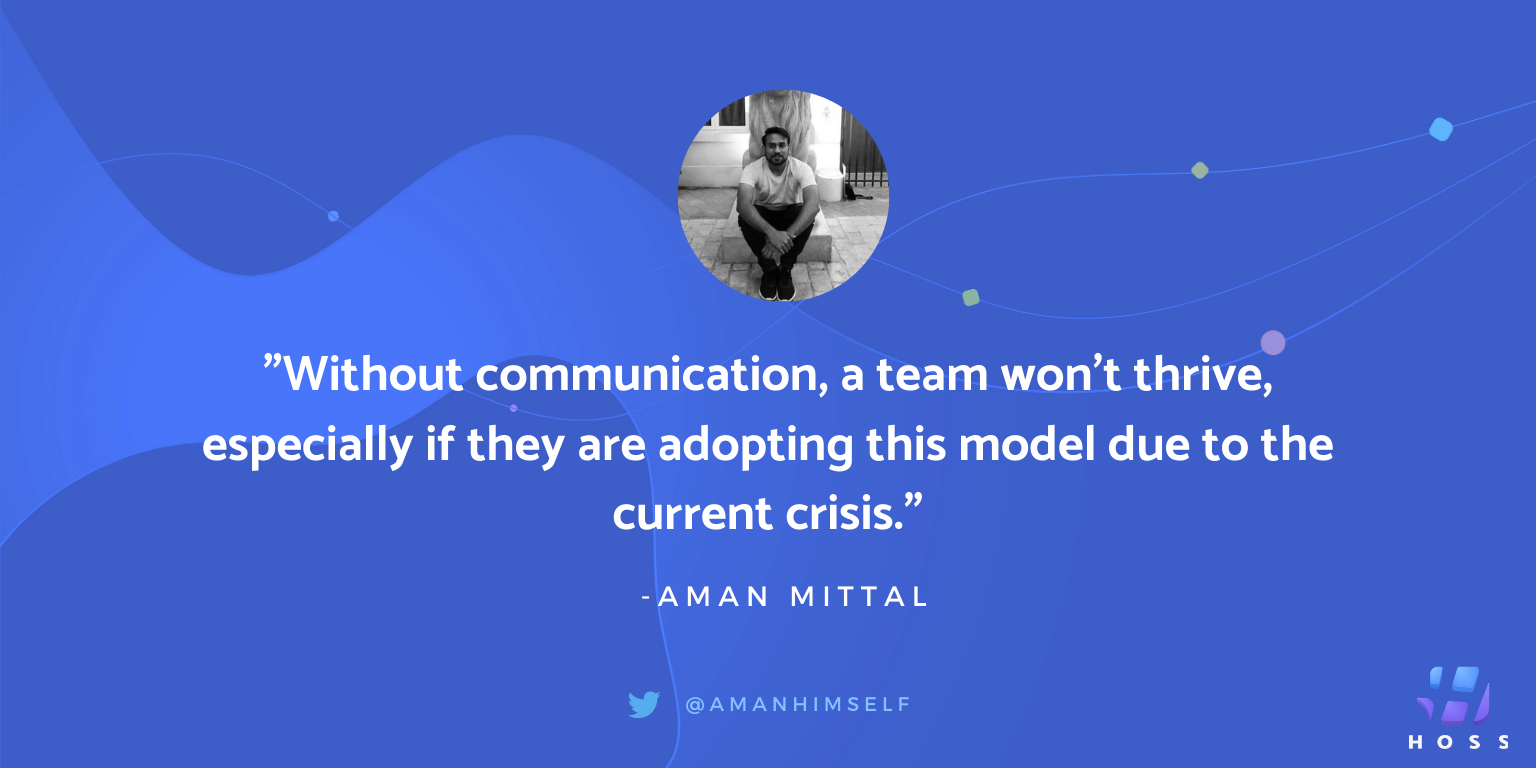 Dev Bites: Development Trends on the Horizon
With Developer & Blogger Aman Mittal
Aman Mittal is a software developer with a background in computer science who specializes in web and mobile technologies using the JavaScript ecosystem. He has written more than 100 tech articles and tutorials for more than 25 publications. Aman also publishes a weekly newsletter (you can subscribe here) to help fellow developers enhance their skills.
We spoke to Aman about remote work and what trends he sees on the horizon in software development.
Hoss: With most teams now working remotely, what advice do you have for teams and engineering leaders who are adapting to a new way of working? Do you think many teams will adopt remote work post-crisis?
Aman Mittal: I have been working remotely for the past two years as an independent contract developer in the JavaScript ecosystem. One thing while working remotely that I believe in and have experienced is the power of communication. Without communication, a team won't thrive, especially if they are adopting this model due to the current crisis. I cannot emphasize the importance of over-communicating enough.
I think we are going to see an increase in remote work in the software development world. Especially for new companies that are just starting out, establishing a remote workflow from the beginning might be more efficient and make more financial sense than dealing with the costs of a brick-and-mortar office.
Hoss: Given the disruption our society has seen, are there any tech trends that you see coming that other people may think are insane?
AM: The serverless area of building apps and services is growing fast and has been supported by companies like Amazon, Netlify, Gatsby and Vercel who have focused most of their time and products (being open sourced) in this area. People may not think it's "insane," but there is some skepticism around this shift. In the end, creating a software app or a service is about the end user experience, and if something allows an engineering team to focus more on that experience, then I see it as an advantage.
Another trend is hybrid mobile app development frameworks like React Native and Flutter. There are some good use cases and reasons for these frameworks to exist, but there are also some cons.
Hoss: What do you think the future of software development looks like?
AM: I am excited to see a set of software development tools dedicated to visual development (such as Draftbit) where little or no code is used to build the initial steps of an application. Mobile hardware has grown a lot in terms of efficiency in past decade, and I think it is high time that we see more and advanced visual tools.
You can visit Aman's blog here and follow him on Twitter at @amanhimself