Pandemic Productivity & The Future of Work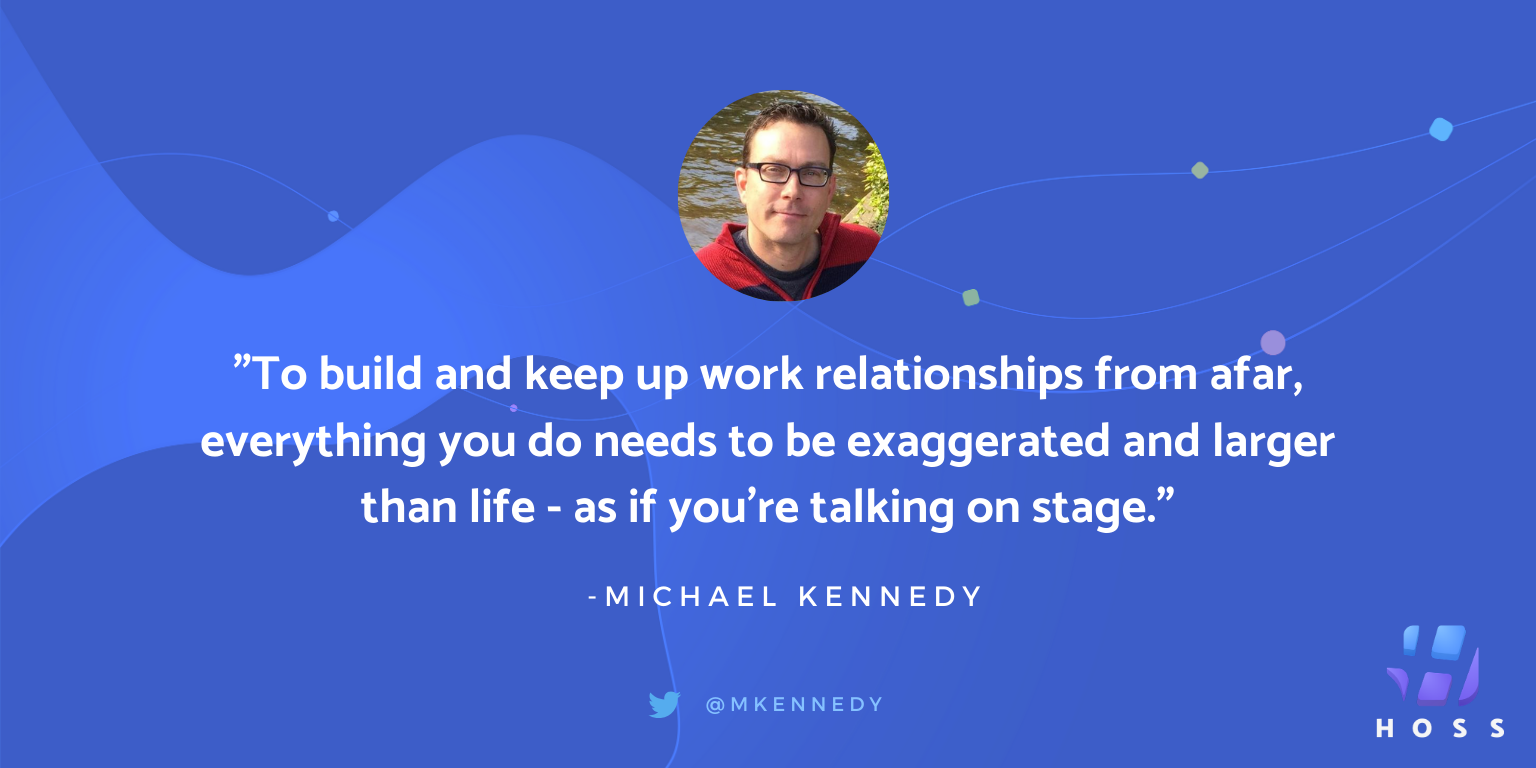 Dev Bites: Pandemic Productivity & The Future of Work
With podcast host and remote work expert Michael Kennedy
Michael Kennedy is the founder and host of Talk Python to Me, a weekly podcast about Python and related software developer topics. He's also the founder and chief author at Talk Python Training, which offers a number of leading online Python courses.
For this installment of our Dev Bites interview series, we spoke with Michael about the challenges (and the brighter sides) of working remotely during the COVID-19 pandemic. Michael has perfected the art of remote work over the last 10 years and offers some practical advice and unique insights on the future of engineering and IT work post-pandemic.
Hoss: What is the worst piece of advice you've been hearing about working from home during the pandemic?
Michael Kennedy: That you shouldn't have a super strict work-life balance, work from 9 to 4:30 and have a shorter lunch. I think in today's world, you have the opportunity to make your daily schedule work better for you. Ask yourself what times during the day you are really in flow or psyched to work. In my case, I'm really excited to write code after dinner.
I think the pandemic allows us a new way to envision the work-life balance that could make us all happier and more productive. Companies should realize there are potentially huge gains to be seen here.
Hoss: Given the recent disruption our society has seen, are there any tech trends you see on the horizon that some people might think are insane?
MK: The concepts of trust and oversight in the workplace are getting shaken up right now. How do you verify that people are working when everyone is remote?
I think that more software that measures the product or deliverable instead of the time (i.e. how many GitHub issues did you close vs. how long did it take you to close them) will become the status quo.
A while ago, I spoke to a VC who was resisting the idea of remote work until the pandemic forced their company to start working from home. They thought it was going to be a trainwreck, but it actually opened their minds. I think it's shaken up people's beliefs for the better and that we'll see a lot more resources and technology developed to support remote work and collaboration.
Hoss: With most teams now working remotely, what advice do you have for teams and engineering leaders who are adapting to a new way of working? Do you think that most teams will adopt remote work as the norm post-crisis?
MK: Companies have no choice today. I've been working remotely for 10 years and I think there is value in working together in an office, but there are also opportunities to work with amazing people around the world through remote work if you're open to it. There are more systems and policies in place now to allow remote work to become the new normal, where previously most companies lacked the tools to make working from home work at all.
Hoss: What tools do you use most often in your work - and have you had to introduce any new ones or remove any as a result of the pandemic?
MK: I started my company in 2016 and all the work was 100% remote - I even lived in Germany for a year. Prior to that, I had been working remotely for 10 years. I think the most important tools for remote work are a good webcam and lighting. The way you present yourself remotely is different than you might be used to in-person in an office. In the virtual world, the professional impression you make depends on your audio and video. I've learned it's important to make sure you have a good video angle that allows you to make eye contact with the people you're talking to and that good lighting is the new "dressed up." It's fine to be casual in a Zoom meeting, but your video angle and lighting will make you look polished.
Hoss: Given your experience, do you have any practical tips for building and maintaining work relationships remotely?
MK: To build and keep up work relationships from afar, everything you do needs to be exaggerated and larger than life - as if you're talking on stage. If there's a birthday, make a bigger-than-usual deal about it. If someone gets a puppy, share photos or even start a puppy Slack channel for people to post photos and talk about their pets.
You can learn more about the Talk Python to Me podcast at talkpython.fm and follow Michael on Twitter at @mkennedy.