The Future of Remote Work and the Importance of Fun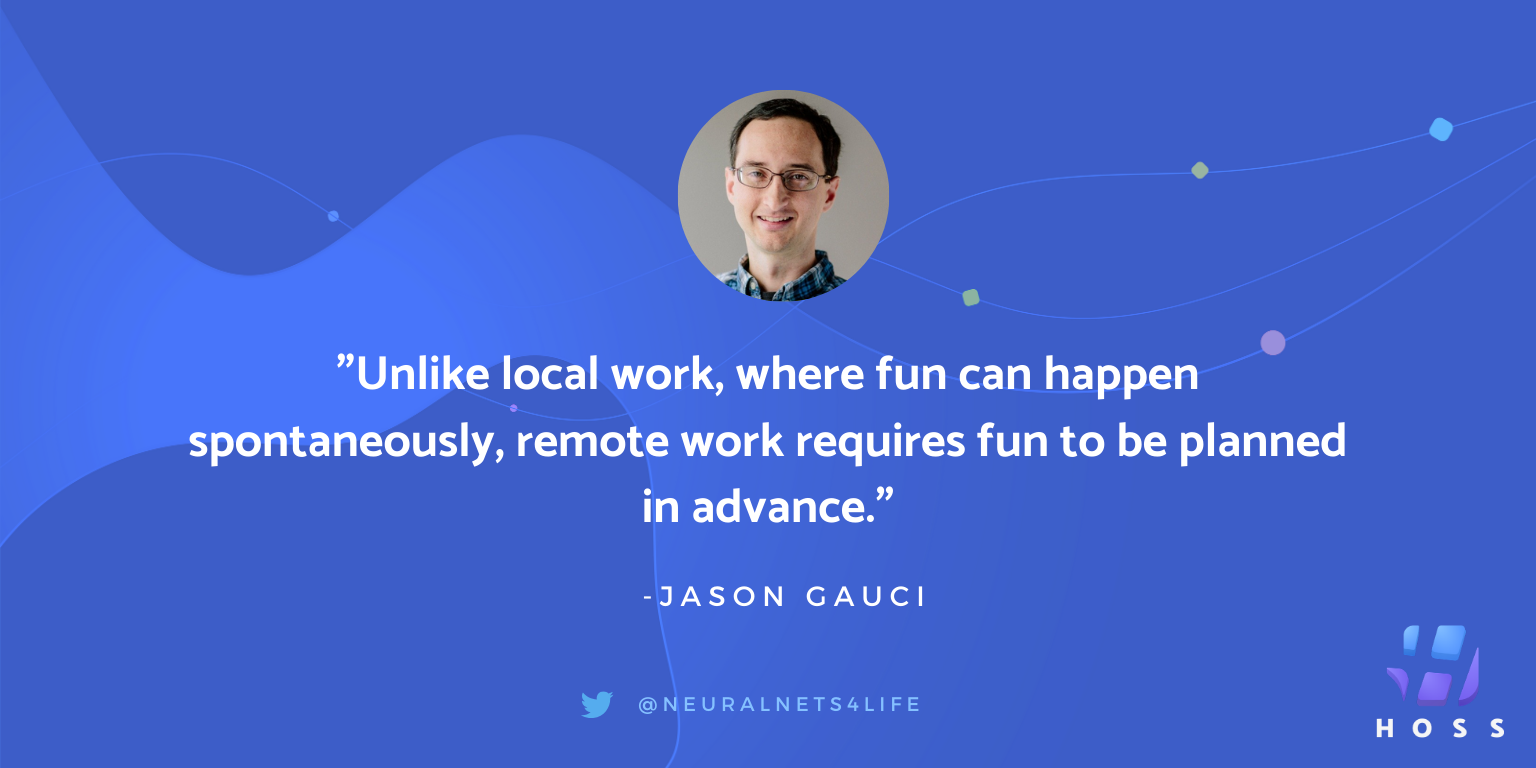 DevBites: The Future of Remote Work and the Importance of Fun
With Jason Gauci
Jason Gauci is a software engineering manager at Facebook AI where he leads ReAgent, a team that uses reinforcement learning to do automated marketing for billions of people. He is also the co-host of Programming Throwdown, a podcast that educates computer scientists and software engineers on a cavalcade of programming and tech topics. Programming Throwdown is the most popular programming podcast on iTunes, with over 18,000 active listeners worldwide, and is frequently listed as one of the top 100 most popular podcasts and top 10 most popular technology podcasts nationwide.
Hoss: With most teams now working remotely, what advice do you have for teams and engineering leaders who are adapting to a new way of working? Do you think many teams will adopt remote work post-crisis?
Jason Gauci: The biggest piece of advice I have is to make sure to have fun. Unlike local work, where fun can happen spontaneously, remote work requires fun to be planned in advance. It can feel awkward to set up a social meeting. Who wants to be forced to go to a meeting to have fun? Making the meeting optional but also making it fun enough that people want to attend is really important.
I truly hope that more teams will adopt remote work permanently after the crisis. It's one way we can help people across the country get back to work.
Hoss: What is the worst piece of advice you hear being given out right now?
JG: The worst advice I hear is that remote work, especially across time zones, is not efficient. In my opinion, the extra time is spent setting up software contracts, writing more documentation and tests, and working more methodically. These are all processes that we should be following anyways.
Hoss: Given the disruption our society has seen, are there any tech trends that you see on the horizon that other people may think are insane?
JG: I think that data science offices will be distributed more like sales offices, where scientists in each locale can focus on their local area. Google could put a data science team in every state of the U.S. that focuses on search/ads quality for their state. These teams would pay for themselves.
Hoss: What do you think the future of software development looks like?
JG: We saw the microservice revolution, and the future of software will be organized the same way. Maybe we could give it a new name, like MicroSoft...
Hoss: What tools do you use to do your job and have you had to introduce or remove any?
JG: Remote terminals have traditionally had an ugly user experience. We now use Eternal Terminal with tmux control center heavily as a replacement for SSH. It lets devs have multiple tabs and windows open, all pointed at a remote machine, and the tabs all survive network disconnects and outages.
You can learn more about Jason's podcast here and follow him on Twitter at @NeuralNets4Life.